Buggy Tour Dubai
Buggy Tour Dubai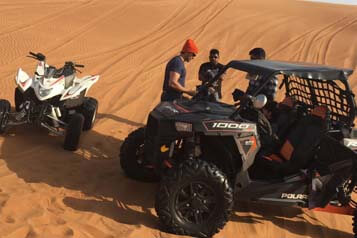 Safety at our Buggy-Tour Dubai is very important to us. That´s why we created guidelines to stay save on every ride.
Buggy Safety equipment
This is the primary safety measure of a buggy ride. The buggies will be equipped with the latest safety equipment such as 5 point racing seat belts, a large roll cage and wheel spacers for a steadier ride in corners and door panels to prevent your arms and leg from reaching out of the buggy.
Driver safety equipment
You will be provided with a wide range of protective gear such as a racing helmet, goggles to prevent sand from getting into your eyes and long sleeve racing shirt and gloves to protect your skin from injuries. You will also be provided with protective tools for your knees, elbows, and chest.
Review:
Adam reviewed DunebikeDubai – Desert Motorbike Tours and Buggy-Rental Dubai – 5 star 18 September 2016 ·  Amazing! The only company that lets you control where you go and what you do! After 10 minutes of expert training, you switch over and the dessert is yours. The buggy is the only one out there even the Arabs who run quad and 4×4 tours stop and stare at how much noise this thing makes. It's all very professional; they have a collection service to and from the hotel so I see the company doing very well! So much fun.
Buggy-Tour-Options:
For more information or bookings contact us via out contact form or simply send us a whatsapp message for a quick reply.
BOOK NOW
Summary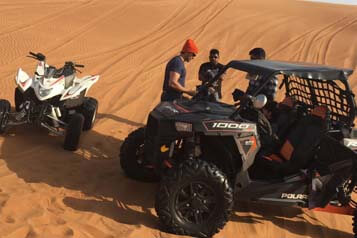 Article Name
Description
Buggy Tour Dubai, Buggy Desert Safari Tour Dubai, Buggy Rentals Dubai, Buggy Tour cost / Price Dubai - Sharjah, Polaris RZR Buggy Safari Adventure Tour Deals.
Author