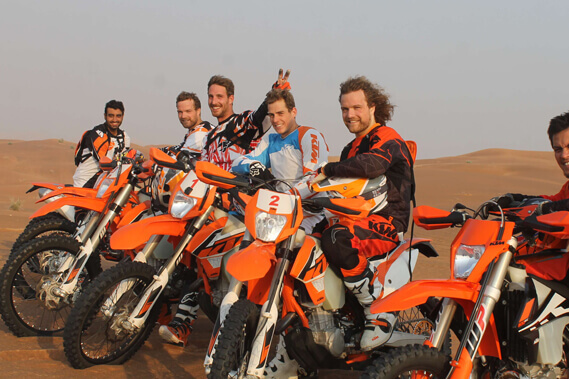 Dirt Bike Rental Dubai
KTM Desert Dirt Bike Tours Dubai | Dirt Bike Rentals / Hire cost in Dubai – Sharjah | Dirt Bike Adventure Safari Tour Dubai-UAE | Dirtbike ride in Dubai | Dirt biking in Dubai Deserts
DuneBikeDubai takes the idea of thirst for escapade which a tourist look for and delivers the unforgettable options you can have by setting aside the daily routine. It is time to leave all the stress back in the office. Pump up with excitement, wear your gloves, tie the laces and ride along with us.
The exhilaration of dirt bike ride will leave you spellbound. Start up the engine and ride the dirt as it meant to be. You will discover a new person who pushes the limits to touch the ground. Offering Dirtbike rental in Dubai, DuneBikeDubai provide all the gears you expect to get. Whether you are planning for a short dirt bike riding in Dubai experience or it is just a hobby you want to adopt, our expert riders will help you during the journey.
Dirt-Bike Rental and Tour Options:
KTM Desert-Dirt Bike Tour -Beginner:  2 hours Duration
KTM Desert-Dirt-Bike Tour -Advanced:  4 hours Duration
Perfect for: Riders with Dirt-Bike experience
Requirements: You must be able to use clutch, gears and throttle
Included: Helmet, Boots, clothes and protection kit
Dirt-bike-type: 2017 KTM 500 EXC or 2016 KTM 450 EXC
Driving License: Not required in our guided desert tours
Adventure Dirt bike tours Dubai for beginners
This tour is aimed for Beginners with basic experience about Dirt Bike riding. If you have never experience off-road riding and have a burning desire to relish the fun of desert riding, this adventure  tour is perfect for you. This 2 hours tour is specifically designed to introduce you to desert riding. You will learn how to ride a dirt bike in Dubai off-road. You will be taken through an orientation on dirt bikes, basic controlling of dirt-bike and off-road riding. During the tour, you will experience the fun of desert riding with the best dirt bikes in United Arab Emirates. You will also be accompanied by a highly-skilled instructor to help grow your confidence and skills. Protective gears and necessary safety equipment will also be provided.
Advanced dirt biking tour Dubai
This tour is perfect for riders who have experience off-road riding. It involves a 4 hours Dirt Bike desert tour across the biggest sand dunes and mountain in Dubai to enhance your riding skills. You will be taught how to ride steadily in the desert during changing dune conditions and when faced with obstacles.
Custom Dirt-bike tour Safari-Dubai
If you wish to explore the desert in the company of your friends, this package is perfect for you. The package is available for up to 2 days in which you will be provided with Desert Camp for an overnight stay. Dirt Bikes rental in Dubai-UAE offers an excellent opportunity for riders whether beginners or skilled riders to experience the fun of desert riding. With a dirtbike-rental-Dubai-UAE you are sure to have a memorable experience.
Choose from a wide range of Dirt-Bikes in Dubai-UAE
Let us put together a personalized tour and route to meet your expectations. Standing in the right position you can improve your skills. We also offer small motorbikes for kids and girls. A unique desert riding experience is waiting for you. Choose from the extensive Dirt-bike in Dubai and go pro on off-road tracks. Whether it is just an occasional hobby or you're a Racer, we will make sure you have the best track experience!
How to Rent a Dirt Bike in Dubai-Sharjah
Rent a dirt bike in Dubai and experience a sport full of excitement and adventures. It is a sport associated with speed and swiftness. The rider experiences the feeling of freedom and self-sufficiency. If you wish to relish the overwhelming feeling and experiences associated with dirtbike Dubai riding, then Dirtbike-rental-Dubai is available for you.
If you fancy the idea of touring the Dubai desert, Dirt-Bike rental-Dubai companies are available to provide you with top-class bikes and service. There are varieties of high quality bikes available ranging from KTM 450cc to KTM 500cc 2017 models. There are also numerous services available for every rider. Highly skilled professionals will also accompany you on the tour to guide you. With DunebikeDubai dirt-bike rental Dubai you are sure to have a memorable experience.
If you wish to experience the thrill of riding a KTM 450cc Dirt Bike through the desert of Dubai but you're concern about your safety, you will be provided with protective gears and all necessary safety equipment with the option of an insurance coverage. Whether you are a beginner or a skilled rider, there are different tour options offered by Dirt Bike rental Dubai companies.
For more information regarding this trip or bookings send us an email using our contact for or just send us a whatsapp message for a quick reply.