Guided Desert Motorbike Tours Dubai
Rent a Motorbike in Dubai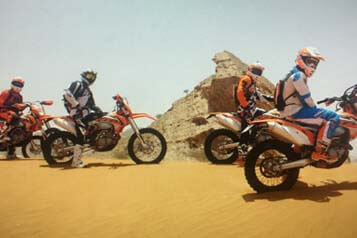 Biking, when compared to other racing, is full of excitement and on-road adventures. It signifies freedom and self-sufficiency. If you want to relish the overwhelming feeling and experiences associated with riding, consider motorbike rental in Dubai-UAE. Enjoy the experience of riding with a motorbike-rental in Dubai companies available.
Worried about safety? You will be provided with protective gears and all necessary safety equipment and the option of an insurance coverage. Whether you are a beginner or a skilled rider, there are different tour options offered by motorbike-rental-Dubai companies.
Find out more about our Rent a Motorbike-in-Dubai offers here
Motorbike rental options
More information about our off-road-desert safari adventure-tours, private or custom sand-dune-tour, group long ride open desert tour or bookings contact us via our contact form or just send us a whatsapp message for a quick reply.
BOOK NOW