Rent a Motorcycle in Dubai
Rent a Motorcycle in Dubai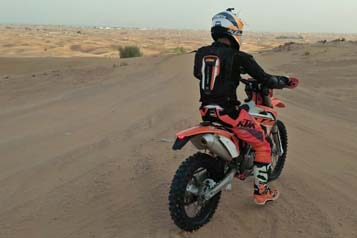 Are you tired of driving in a car? Do you fancy riding at full pace? Motorcycles can make your adventure a reality. There is nothing like climbing a motorcycle and hitting the road. Motorcycles are unique means of transport that can make adrenaline rush through the veins; it creates an unrivaled impression that is not found anywhere and also pumps up the body.
Motorcycles offer a thrilling ride beyond your thirst for something new and adventurous; with a motorcycle, you can overcome different mountains and highways while rushing towards adventures. If you are tired of your daily routine and desire to feel a burst of energy, Dubai-motorcycle rental is right for you.
Don´t forget to try our other adventures also such as Polaris RZR Dune Buggy Tours and Quad Bike Tours.
Find out more about our Rent a Motorcycle-in-Dubai offers here
Motorcycle rental and tour options
More information about our off-road-desert safari adventure-tours, private or custom sand-dune-tour, group long ride open desert tour or bookings contact us via our contact form or just send us a whatsapp message for a quick reply.
BOOK NOW
Summary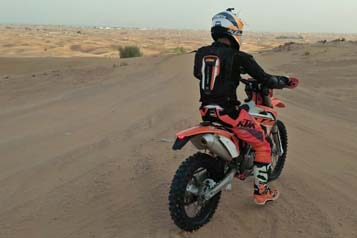 Article Name
Rent a Motorcycle in Dubai
Description
Rent a Motorcycle in Dubai, top motorcycle tours in Dubai, Moto sports in Dubai desert, Top desert activities in Dubai, Motorcycle riding Dubai, Motocross Dubai
Author